Caring for Our Community
do you need other assistance?
Email the committee or call the office at 408-257-3333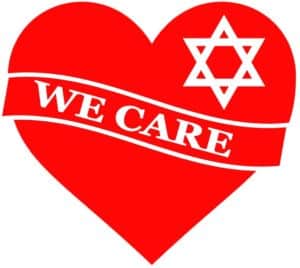 About WeCare
As we experience the joys and challenges life brings us, it's important that we celebrate and support each other as part of our Congregation Beth David family.  We all know the powerful, joyful feelings we experience by performing mitzvot, helping other people in ways both big and small.
We Care is a group of volunteers in our shul who have stepped forward to offer the assistance our members may need.  The team can be identified with "We Care" stickers/buttons and include the greeters at our Saturday morning services. We encourage you to alert any of them of a joy or sorrow – or if you require special help. We Care offers these services:
Support for those who are suffering the death of a loved one
Visits to the elderly or members who are ailing
Transportation for those needing a lift to and from shul
Meals for members experiencing an illness and to new moms and dads
In addition, help can be accessed by sending a note to wecare@beth-david.org or calling the office at 408-257-3333.
In lifting up and caring for one another we show the very best our community can be.  Please alert any member of the We Care team if you'd like to help too!