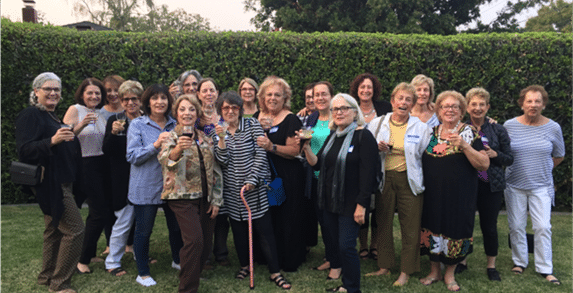 Please email women@beth-david.org to be added to our roster, offer suggestions, ask questions, or provide comments.
Please Join Us
Women of all ages and interests at Congregation Beth David are invited to join us. In fact, we consider all women at Beth David to be a part of our group – we do not charge annual dues (although many women do provide a small donation each year). Please email women@beth-david.org to be added to our roster, offer suggestions, ask questions, or provide comments.  We would love to hear from you. Without you, we are one woman short!
UPCOMING/ONGOING EVENTS – Remember to sign up!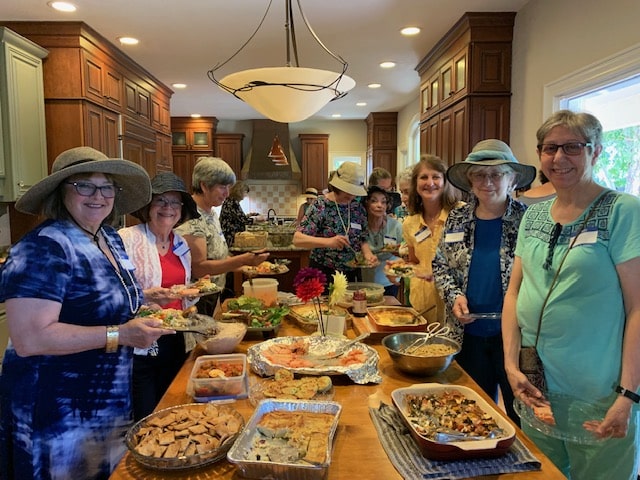 Ladies Who Lunch – in the Sukkah, Thursday, October 5, 11:30 am-1:30 pm.  This year, we are pleased to have three locations for LWL in the Sukkah.  Many thanks to Wendy Glasser, Emily Gannes, and Iris Bendahan for offering to host. Spaces are limited, and there will be waitlists for each location. Here are the links to sign up. Due to space limitations, please only register for one location:
– Hosted by Emily Gannes (Cupertino): LWL in the Sukkah – Gannes
– Hosted by Wendy Glasser (Saratoga): LWL in the Sukkah – Glasser
– Hosted by Iris Bendahan (San Jose/Cupertino): LWL in the Sukkah – Bendahan
The waitlist and signup genius invitations for the Sukkah luncheons will be managed by Cathy Beyda. Please email Cathy (cathybeyda@comcast.net)  if you have any questions or have difficulty signing up. Thank you, Cathy!
Empty Nesters Coffee & Chat – October 3, 10-11:30 am. The next group gathering is scheduled for Tuesday, October 3, 10 am, Paris Baguette, Cupertino. Contact Dafna Mizrahi (dafi.sorokin@gmail.com) for additional information or to be added to the mailing list.
Women Who Walk.  Actual Start date to be determined.   Women Who Walk will restart in October when it cools down a bit and the Holidays are over.  The group will meet on Tuesday mornings at 8:30 am in Los Gatos in the VTA Parking lot near the Safeway end of the lot. You can hike the Park and Vasona Creek Trail and walk up to the little dam or perhaps, if people are feeling energized, all the way to Lark Avenue and then back to your cars.  The little dam is about a 3.5-mile round trip.  Los Gatos residents who want a shorter walk can park in the Vasona parking lot and meet the group where the train tracks meet the trail.  We will keep you posted. Contact Wendy J Glasser (wjgcbd@comcast.net) if you are interested in joining.
Dames Who Dine – Our popular evening program will return beginning in October!  Stay tuned for details on our first fun DWD dinner this fall!
Mah Jongg Tournament – This year's Mah Jongg Tournament will be held at Beth David on November 19, 11 am – 5 pm.  The cost will be $54 per person for lunch and three rounds of play. Registration and more coming soon!
OTHER EVENTS
Torah Fund – Women's League for Conservative Judaism's 2023-2024 Torah Fund Campaign is underway. Torah Fund raises money for our five Conservative Judaism Seminaries, supports programs at the Seminaries and also provides Scholarships for students to attend the Seminaries and for their study year in Israel.  This fund is vital to the future of our movement.  We need to make it affordable for students to become Rabbis, Cantors, and Educators. This year's Torah Fund Theme is Kol Yisrael Arevim Zeh Ba'Zeh — All the people of Israel are responsible for one another. For full explanation about Torah Fund and this year's campaign, click. To view the flyer, click this link: Torah Fund flyer 2023 
Whale Watching Cruise, Sunday, October 29, 2:30-5 pm. Join Beth David members on a 2.5 hour private whale watching tour in the Monterey Bay. Boarding begins in Moss Landing at 2:30 pm and we will be on the water from 3 -5:30 pm. This tour is limited to 26 people and is open to Beth David members ONLY. The cost is $50 per person. When signing up, you must provide the names of each person that will attend. Once your signup is complete, your account will be billed, and you will receive an email from Monica to arrange payment. Payment must be received no later than 10/25. Sign up here
JFS Urgent Refugee Supply Drive. JFS SV has reached out to Beth David and other community organizations to advise that there will be an influx of Afghan refugees and asylum seekers arriving to Silicon Valley as the military bases where they've been held will be closing. Therefore, they have an urgent need for FULL SIZE toiletries, kitchen and laundry items please (no diapers and menstrual supplies needed at this time).  You can drop off your items at Beth David's Mitzvah cabinet in the entrance anteroom. Of course, you can always drop your items directly at JFS.  Here is a link with a list of what will be needed: JFS Supply Drive.
Hillel Shabbat Dinners – Jane Jacobson coordinates these dinners on Friday evenings during the academic year, mainly at Hillel of Silicon Velley. Hillel supports students at SJSU, Santa Clara University, Mission, Foothill, West Valley, Evergreen, and the other community colleges in the valley. For each dinner, you would put together a group of at least 5 people to provide a nourishing Shabbat dinner – including a salad/soup course, main course, dessert, and challah.  Meals may be dairy, meat or parve.  Hillel maintains a Kosher-style kitchen meaning that donors may cook in their own homes but should follow Kashrut laws by not mixing meat and milk, providing dishes in throw-away serving containers.  Hillel can provide serving utensils. There is no need for clean-up – the kids do it.  Set up is either that delivery person/people set out their dishes or put them into the ovens to be heated.  The Hillel staff and volunteers set everything out on the serving counter.  There is really very little to be done other than cook at home and deliver to the person in charge of taking food to Hillel House or taking it there yourselves.  Here is a link for complete details and how to get involved with this wonderful project: BDW Hillel Shabbat Dinner Program 
Beth David Crafters' Guild – next meeting October 23, 3 – 5 pm, Congregation Beth David. Hosted by Ricki Gafter and Ann Tavan. You do not have to be a crafter; social members are also welcome. To add your name to the list, contact Ann Tavan (ann@tavan.com)
We were thrilled to welcome Retired Judge LaDoris Cordell and learn about her experiences as the first judge of color on the Santa Clara Superior Court.
For those of you who missed it
watch Judge Cordell's talk on YouTube https://youtu.be/v65GA-3JY7k
Many thanks to those who have stepped up to take various roles in the running of BDW. There are still a few that are open.  Right now, we need volunteers for the following:
Beth David Women brochure update: If anyone also has any good photographs from a Beth David Women event you can share, please send them to Jane at jane.j.jacobson@gmail.com.
Chanukah lunch committee members: The Beth David Women Chanukah luncheon will be Thursday, December 14, which is our Ladies Who Lunch date. We need volunteers to help coordinate this very special annual event.  Please contact Jane Jacobson (jane.j.jacobson@gmail.com) to be a part of the effort.
Photographer(s) – can be more than one person, to take pictures at BDW events and submit them to Lynn Crocker (crocker@beth-david.org) for use in marketing
About Beth David Women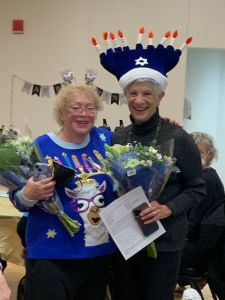 Beth David Women is a diverse group of women who draw strength from each other in our commitment to Jewish ideals.  Our mission is to bring women together to support and benefit our Congregation and community, and to enrich our lives through personal and spiritual growth and friendship.  We accomplish this mission through social and educational programs, worship, social action, and leadership development.
Beth David Women is affiliated with Women's League of Conservative Judaism (WLCJ), a voice of Conservative Jewish Women all over the world and is a proud participant in WLCJ's annual Torah Fund Campaign. Torah Fund supports the education of Conservative rabbis, cantors, educators and scholars through scholarships and programs.
Support For Beth David and Our Larger Community
Beth David Women is dedicated to supporting our Congregation and making it a vibrant and welcoming place where our members can share in friendship and worship.  We often partner with Men's Club to share in events and fundraisers and to make contributions that meet the religious and financial needs of our Congregation. Some of the ways we make an impact include:
Presenting each B'nai Mitzvah with a Kiddush Cup
Supporting the religious school
Funding some of the musical Shabbat services
Sending Torah Fund cards to congregants who experience a life cycle event
Providing flowers or other decorations for the bima on the high holy days
Beth David Women also offers opportunities to serve our larger community and make it a better place to live.  Some of these opportunities include:
Hosting Shabbat dinners each year for Hillel students at San Jose State University
Holding an annual event to support the Torah Fund Campaign
Supporting Beth David's team at the American Cancer Society's annual Relay for Life
Contributing to the Safe Car Park program
Assembling hygiene kits for shelters with AAi
Providing financial support to charitable causes such as shelters, food banks, JFCS, etc.