Jewish Book Discussion Group
Impossible Takes Longer: 75 Years After Its Creation, Has Israel Fulfilled Its Founders' Dreams?
Saturday, November 11, 12:45 – 2:00 p.m.
by Daniel Gordis, led by Paul Freudenthal
On the occasion of Israel's seventy-fifth anniversary Gordis explores the question of whether the State of Israel has fulfilled the dreams of its founders. He discusses the flourishing of Jewish and Israeli culture in Israel; the distinct form of Judaism that has emerged; the situation with Israel's economy, political landscape; its technology sector; its complex relationship with the Diaspora; and more.
A Career in Jewish Journalism (Social Hall)
with Alix Wall, writer for J. Jewish News and the New York Times
Sunday, November 12, 7:00 – 8:30 p.m.
Join our conversation with Alix Wall, an award-winning journalist who's passionate about food, Jews, and love stories. Alix is a contributing editor at J – The Jewish News of Northern California, where she writes a regular column about Jews in the food industry, as well as other features. She also contributes love stories to the popular "Vows" section of The New York Times.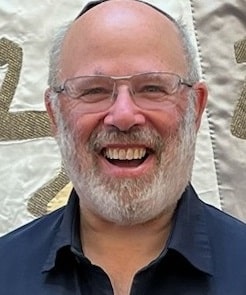 Rabbi Kunin Installation & Lunch
Saturday, November 18
Services at 9:30 a.m.
Kiddush Lunch at 11:30 a.m.
We invite you to join us for Shabbat services on November 18 as we install Rabbi David Kunin as our Senior Rabbi. Stay afterwards for Kiddush lunch. Help us know how much food to for lunch.  Please RSVP HERE
Mah Jongg Tournament (Social Hall)
Sunday, November 19, 11:00 a.m. – 5:00 p.m.
Please join us for an afternoon of lunch and three rounds of Mah Jongg. The cost will be $54 per person for lunch and three rounds of play. Registration and more coming soon.
SCHOLAR-IN-RESIDENCE: Professor Louis Newman
Friday through Sunday, December 1 – 3
Friday, December 1, 8:00 – 9:30 p.m.
What Does G-d Have to Do With It?
Jewish tradition teaches us to consider our moral decisions and moral development in the context of our relationship with God. What difference does this make? How is our relationship with God connected to our relationships with other people? In this session, following Friday night services, Professor Newman will explore why faith is important for ethics.
Saturday, December 2, During Services
"Esau–the Torah's Greatest Unrecognized Moral Hero"
Saturday, December 2, 12:45 – 2:00 p.m.
Red Scroll/Blue Scroll: Is the Torah Liberal or Conservative?
In our highly polarized environment everyone seems to be divided into opposing political camps–liberal or conservative. But maybe there's a third way. Professor Louis Newman will explore how our tradition straddles the political divide.
Sunday, December 3, 10:15 a.m. – 12:00 p.m.
Food for Thought: The Jewish Ethics of Eating
Eating is among the most frequent activities of daily life. But our tradition teaches that what we eat and how we eat can be guided by our moral values. In this session Professor Louis Newman will discuss how eating, which is one of the most mundane actions of our lives, can elevate our ethical and spiritual existence.