Join us in making the world a bit better!
If you have suggestions, comments, questions, or want to join our steering committee contact us at: TikkunOlam@beth-david.org
Abrahamic Alliance International Actions
Get to know your fellow Christians and Muslims neighbors as we do Tikkun Olam together!
Packing Farm Boxes on May 19
Good Karma Bike Repair on May 29
Food Distribution on June 9
Click here for a calendar of upcoming events
Who are the Tamien Nation? (Zoom)

Wednesday, May 18, 7:30 – 9:00 p.m.
Do you know who lived on Santa Clara County lands prior to becoming California and part of the United States? Tamien Chairwomen, Quirina Luna Geary, will be speaking to us virtually and present us with the history of the Tamien nation who once inhabited these lands, how they lived, where they are today, and how we can help them reach their aspirations. To connect with Zoom: https://us06web.zoom.us/j/82747658474?pwd=R1VZV3ZSelAyRWZuMnJYMkRuVGFTZz09, To connect by phone, call (669) 900-6833, Meeting ID: 827 4765 8474, Passcode: 960723.
Safe Car Park Program
This is the 5th year Beth David is hosting the shelter (which is located at WestHope Presbyterian) for the month of June.  We need help with:
Food Service – guests are offered food in the morning (7-8am) and evening (7:30 -8:15pm), and a hot dinner on Tuesdays.  We need 2 volunteers for each shift.
Hot dinner donation – Homestyle food is much appreciated.
Sign up for either food service, or food donation here:  SIGN UP
Join Team Beth David for Relay for Life
Saturday, July 16 – Sunday, July 17
Relay for Life of Campbell is a community fundraising event to support the American Cancer Society where teams keep a member walking the track for 24 hours to represent how cancer never sleeps and neither will we. Team Beth David will participate from 8:00pm on Saturday, July 16 to 10:00am on Sunday, July 17. More info
Refugee Resettlement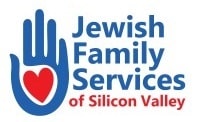 As Jews, we know perhaps close to first hand how heart wrenching, and difficult it is to be forced to leave your home land and search for a new country to accept you. Helping settle refugees is an important mission of Silicon Valley Jewish Family Services, and there are several ways we can help them accomplish this mission.
Welcome to America Cards.  PERFECT FOR KIDS: JFS would like to have a stack of "Welcome to America" cards to give each refugee family when they are placed in their new home.  Have your child create 1 or 2 cards, just pictures are fine too,  drop them off in the entry foyer for non-contact drop-off at Beth David during the following times: Monday – Thursday 9am-4:30pm; Friday 9am-3:30pm and we'll get them to JFS.
Move in day helpers. JFS would love to have a list of people they can call when there is a new family to move in.  Usually you'll get 72 hours' notice, and the greatest need is on a weekday.  You need to be able to lift boxes and stuff as needed. If you have a pick up truck or van that can fit multiple boxes of stuff, that's a bonus!
Managing a Move.  Currently JFS has only one person managing the moves, which includes coordinating supply pickups, renting the U-haul etc, and they are overwhelmed! If you feel you could assist with this job so it becomes more manageable, let us know!
In honor of Earth Day, the Tikkun Olam Team joined Environmental Volunteers for a morning of "PL-irdining" – Picking up Litter while birding! In this special volunteering event, Environmental Volunteers led groups of participants in litter pick-up at the Baylands Nature Preserve. Along the way, EV guides help participants learn about the birds, as well as other plants and animals, that live in the preserve!