Featured Book Title This Month:
Beyond the Golden Rule, A Jewish perspective on Dialogue and Diversity
by Rabbi David Kunin
Years of inter-religious work have resulted in this perspective on the commonalities which unite world religion, written eight years ago by our Rabbi Kunin. Irrespective of the particularities of the diverse beliefs and practices of various religions, whether Christianity, Islam, Hinduism, Buddhism, Sikhism or Judaism, the
"Golden Rule" seems to be the singular ethic which unites all people of faith with a common purpose. Interfaith endeavors lead us to a united vision of peace and justice, the themes which tend to foster general agreement, regardless of the tradition of one's background, providing us all with a shared mission to pursue together.
Other New Book Titles This Month:
Rebecca of Salerno: A novel of rogue crusaders, a Jewish female physician, and a murder, by Esther Erman
Impossible takes longer: 75 years after its creation, has Israel fulfilled its founders' dreams? by Daniel Gordis
My own words, a selection of writings and speeches by Justice Ruth Bader Ginsburg
Shanda: A Memoir of Shame and Secrecy by Letty Cottin Pogrebin
Worlds Apart: The Journeys of My Jewish Family in Twentieth-Century Europe, by Nadia Ragozhina
Not in God's name: Confronting religious violence by Rabbi Lord Jonathan Sachs
Beth David's Levinson library is open!
Anytime you are in the building, whether weekday or Shabbat, you are welcome to come in and browse our collection. It's located in the far end of the Beit Midrash (small sanctuary). If the room appears dark, just open the door, and the lights will come on for you. Check it out.
We have a broad selection of Jewish reference material, fiction and non-fiction books, and periodicals, always including the latest releases, for adults and teenagers.
The Robert E. Levinson Memorial Library was named in memory of Robert E. Levinson (z"l), a San Jose State University professor, writer, Jewish educator, and Beth David cantor.
Jewish Book Discussion Group
Book lovers join us! See upcoming titles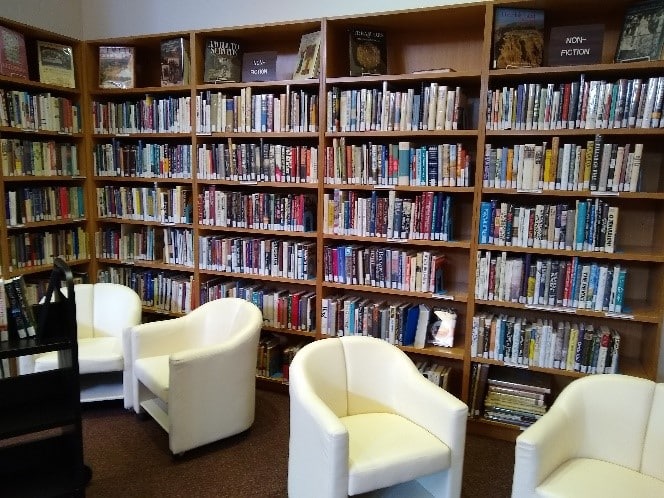 Come in and browse our periodicals:
Biblical Archaeology
Commentary
J – Jewish news of Northern California
Jewish Review
Moment
Zichron-Note news of Jewish genealogical society
Note: The May 2023 issue of Zichron Note includes a wonderful four-page article written by our own Len Jacobson, telling the interesting history of his own family.
Note: copies of the most recent issue of  J – Jewish news are available gratis, on coffee tables throughout the synagogue mercaz. Feel free to take a copy of the latest J.
Browse our Catalog
https://opac.LibraryWorld.com/  Library name: Congregation Beth David
Russian Language Books
Aside from our circulating collection, we also have an assortment of over 100 Russian language books available for giveaway (see back wall, under the TV monitor).
Book Nook
Aside from our circulating collection, extra items on a variety of subjects are available for giveaway to members and visitors on the "Book Nook" table. Leave a book, take a book. The Book Nook is located near the library entrance,in the rear of the Mercaz.
Self-checkout procedure
Our titles are available for Beth David members to check out for a 3 week loan. If there is no attendant present, we have a self-checkout procedure which is halachically compatible with Shabbat.
You'll notice a box of envelopes, one for each Beth David member unit.
Find the envelope with your name on it, and place the title card from the book pocket into the envelope. Submit the envelope in the designated place.