Building Bridges – An Intergenerational Initiative
Meet Founding Member Lou Dombro
By Abby Moll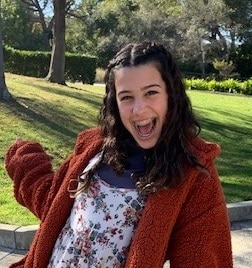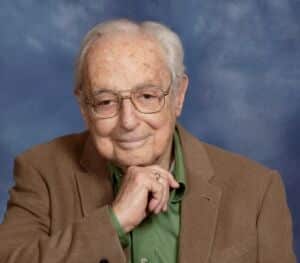 Lou Dombro was born in Manhattan. He grew up in the Bronx, in an urban area with many different people. Mr. Dombro's parents had a limited affiliation, but Lou did attend Hebrew school and have a Bar Mitzvah. He played a lot of hooky from Hebrew school because it was boring, but he ultimately was trained by an Orthodox rabbi for about 6 months in order to prepare for his Bar Mitzvah. His Bar Mitzvah occurred 6 months after the start of World War II therefore it wasn't a very big ceremony. He remembers celebrating in his apartment in the Bronx with his family and many cousins.
Lou was drafted at the start of the Korean War, but due to his major in physics, was assigned to a secret base in Utah to work on weapons research. While in the army, Lou had a three day pass to California, fell in love with the Bay Area and decided that's where he wanted to end up with his family.
Lou was working and living in Connecticut with his wife and 3 kids when he was hired for a new job in California. The new position involved working on microwave tubes that went into satellites. He and his family left for Silicon Valley the day President John F. Kennedy was shot, November 22, 1963. He, his mother and his family drove across the country for a week.
When Lou first arrived, Jewish life looked a lot different. There were established synagogues in the Bay Area but none yet in the Sunnyvale area. A friend that helped Lou get the job in California told him about a group that was organizing a new synagogue, Congregation Beth David. Lou found out where the group was meeting in a house on El Camino Real in Sunnyvale and joined.  Every Friday night he went to Shabbat services with his wife and three kids. The synagogue moved its location from a church in downtown Sunnyvale and bought a home in Cupertino. In the early years of the synagogue, there were only about 60 families. Lou remembers how it was financially tough getting enough money to buy the house. The garage was converted into a sanctuary and chairs were put on the driveway to fit as many people as possible. During his presidency from 1966 -1967, the congregation was able to purchase land to finally build a formal synagogue. During his presidency, services for the high holidays were held in a church in Sunnyvale. There were only 80 families who were members at that time.
Since Lou's presidency, there have been a large number of changes. Lou was happy to see how the synagogue was turned into a full fledged congregation, maintaining a growing membership with a beautiful building and a Hebrew School. Lou loves a lot of things about Beth David, especially the comradery and the meaningful, interesting moments he has experienced there. His wife Lydia taught Hebrew School. They made many lifelong friends with whom he still keeps in touch to this day.
After his retirement, Lou served as the chairman of the adult education committee for several years. Lou continued lecturing around the Bay Area on Jewish history using special stamps. He collected stamps that had a connection to Jewish history, such as one published in Denmark to celebrate the 300th year of the Copenhagen synagogue. Lou used the stamps as a point of lecture, and talked about the survival of the Jewish people over two thousand years. He talked about things like the Crusades, the Expulsion from Spain, and even Jewish pirates.
He recalls having a very nice Seder with his parents and grandparents in his childhood. He is proud to say he is able to continue the tradition of having a Seder  in his new home in Pleasanton. He is motivated to keep his Jewish identity strong in matters of historical and religious significance. He believes traditions are important to maintain and keep alive. He also is motivated by the miracle of the survival of the Jewish people for thousands of years despite all challenges and obstacles placed in the way.
One really important lesson I gleaned from this experience was if something you want isn't accessible, you should work hard to make it a reality. In Lou's case, he saw a need for a synagogue in Silicon Valley and he helped establish the synagogue in the early days. I am 15 years old. I know that every organization has a beginning, but it was really interesting to hear what life was like while our synagogues was being created.
I decided to participate in this project because one of my friends, Merav Tzori, from my Jewish youth group, told us all about it. I was really intrigued and interested because I know the importance of passing our Jewish history on from generation to  generation.  Lou Dombro was inspirational and I'm grateful to have had the opportunity to have met him.
#####
Building Bridges is an exciting new initiative at Congregation Beth David formed to connect teens and college students with longstanding Beth David members. For more information, please contact Helaine Green and Bonnie Slavitt, Building Bridges coordinators at BuildingBridges@beth-david.org